Gruppo Schiavone
Coordinator of Research Team
Nicola Schiavone
Position
Ricercatore confermato
Name of Research Team/Laboratory
Post transcriptional regulation in cancer
e-mail nicola.schiavone(at)unifi.it
telephone number 0552751309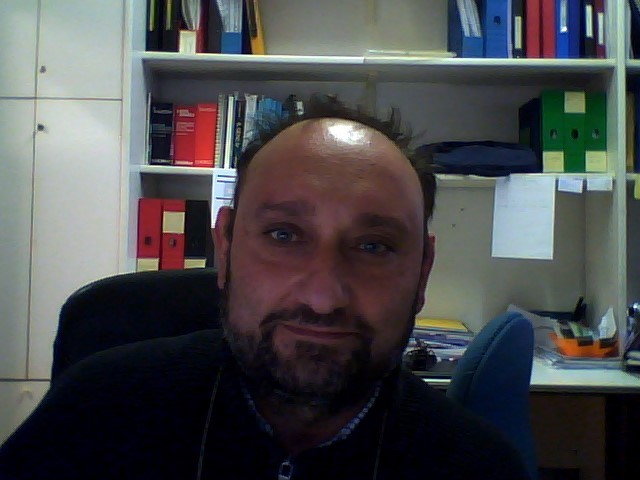 Brief biographical sketch of the Coordinator
2002-today Researcher (permanent position) at the Department of Experimental, Clinical and Biomedical Sciences "Mario Serio", Section of Experimental Pathology and Oncology
1998-2002 Technicians (permanent position) at the Department of Experimental, Clinical and Biomedical Sciences "Mario Serio", Section of Experimental Pathology and Oncology
1991-1998 research Fellow at the Department of Experimental, Clinical and Biomedical Sciences "Mario Serio", Section of Experimental Pathology and Oncology
Member of the following Scientific Societies
1) Società Italiana di Patologia e Medicina Traslazionale
Research Team
1) Matteo Lulli, Ph.D., 14/11/1978 (tecnico)
Current research interests
1997-1998 MURST 40% Ministry of Research - "Reversion fo the neoplastic phenotype by modulation of the clonal survival potential using antisense oligomers " National Coordinator: Prof. Leonardo Santi for the project "Innovative Antineoplastic Therapies ". Co-Investigator
1999-2000 MURST 40% Ministry of Research- "Antisense strategies and molecular tools aimed to inhibit cancer growth by modulation of genes involved in apoptosis and/or in angiogenesis ". National Coordinator: Prof. Leonardo Santi for the project "Novel moecular approaches for antineoplòastic therapy". Co-Investigator1997-1998 Menarini Ricerche - "Cellular and molecular determinants of the clonal survival involved in the MEN10755 toxicity". Co-Investigator
1997-2010 Associazione Italiana per la Ricerca sul Cancro (AIRC) – "Molecular basis of bcl-2 overexpression in tumours: role of a new mRNA destabilizing pathway involving an AU-rich element". Co-PI
1997-2001 Ente Cassa di Risparmio di Firenze (ECRF) - "Quantitative study of apoptosis in normal and neoplastic cells by Time-lapse videomicroscopy". Co-PI
1997-2001 Ente Cassa di Risparmio di Firenze (ECRF) - "A combined antitumor strategy aimed to kill tumor cells by apoptosis and ischemia". Co-PI
1999-2004 Associazione Fiorentina Ricerca Biomedica/Visufarma SpA - "Study of the antiapoptotic activity of Coenzyme Q10 toward UV and excimer laser radiation induced apoptosis in cultivated keratocyte". Co-PI
2003-2004 MURST 40% Ministry of Research. Reversion of unspecific chemoresistance by modulation of bcl-2 expression using informational strategy associated or not to classical antitumor chemotherapics. National Coordinator Prof. Mini Enrico. PI.
2004-2005. MURST 40% Ministry of Health. Role of deregulated apoptosis in experimental epatic cancerogenesis: study of the bcl-2 control mechanisms, their alteration in tumors, and modulation by means of antisense strategies. National Coordinator Prof. Francesco Feo. Co-PI.
2005-2006. MURST 40% Ministry of Health. Development of pharmacologic strategies directed against molecular targets downstream and upstream of the action site of antitumor drugs: induction of the selective transport of antifolates and modulation of the antiapoptotic threshold. Coordinatore Enrico Mini. Co-PI
2008-2012 Istituto Toscano Tumori (ITT) - "TGFbeta in Cancer Angiogenesis: Activity on Mature and Progenotor Endothelial Cells and its Inhibition by TGFbeta Inhibiting Peptides". Co-Investigator
2012-2017 Grant ex60% Ministry of health. Impact of the acidic environment on survival pathways in cancer. PI.
10 Best publications of the last 5 years
Roles of different IRES-dependent FGF2 isoforms in the acquisition of the major aggressive
features of human metastatic melanoma. Andreucci E, Bianchini F, Biagioni A, Del Rosso M, Papucci L, Schiavone N, Magnelli L. J Mol Med (Berl). 2017 Jan;95(1):97-108.
Lipid-polyethylene glycol based nano-ocular formulation of ketoconazole.
Kakkar S, Karuppayil SM, Raut JS, Giansanti F, Papucci L, Schiavone N, Kaur IP.
Int J Pharm. 2015 Nov 10;495(1):276-89. doi: 10.1016/j.ijpharm.2015.08.088. Epub 2015 Sep 7.
PMID: 26325312
Differential uPAR recruitment in caveolar-lipid rafts by GM1 and GM3 gangliosides regulates
endothelial progenitor cells angiogenesis. Margheri F, Papucci L, Schiavone N, D'Agostino R, Trigari
S, Serratì S, Laurenzana A, Biagioni A, Luciani C, Chillà A, Andreucci E, Del Rosso T, Margheri G, Del
Rosso M, Fibbi G. J Cell Mol Med. 2015 Jan;19(1):113-23.
Safety testing of blue vital dyes using cell culture models.
Giansanti F, Schiavone N, Papucci L, Bitossi A, Andreucci E, Pontenani F, Cutrì M, Menchini U.
J Ocul Pharmacol Ther. 2014 Jun;30(5):406-12.
Collaborations
Prof InduPal Kaur, Indu Pal Kaur, M.Pharm, Ph.D. PDCR Dean Faculty of Pharmaceutical Sciences Professor and Head, Department of Pharmaceutics, University Institute of Pharmaceutical Sciences Secretary, IPA Punjab Branch Ex- Director SAIF/ CIL facility Panjab University, Chandigarh 160014, India
Gary Brewer, Biochemistry and Molecular Biology, Rutgers, The State University of New Jersey 675 Hoes Lane West, Rm R-736 Piscataway, NJ 08854
Laura Papucci, Ph.D. Department of Experimental, Clinical and Biomedical Sciences "Mario Serio", Section of Experimental Pathology and Oncology – 50134 Florence . Italy
Lucia Magnelli, Ph.D. Department of Experimental, Clinical and Biomedical Sciences "Mario Serio", Section of Experimental Pathology and Oncology – 50134 Florence . Italy
Andrea Lapucci, Ph.D., Dipartimento di Medicina Sperimentale e Clinica – University of Florence Viale Pieraccini, 6 - 50139 FIRENZE
Amedeo Amedei Dipartimento di Medicina Sperimentale e Clinica – University of Florence Viale Pieraccini, 6 - 50139 FIRENZE
VIDEO DIDATTICI